---
---
Get a FREE Map - Tourist Guide
upon visiting our shop and mentioning that you saw us
on the internet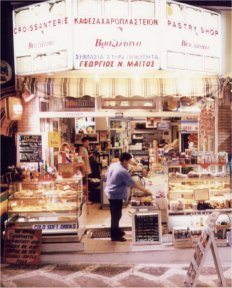 Our store, "Brasiliana", the business of Maitos family, welcomes you to Naxos and wishes you unforgettable holidays on our island.

Brasiliana offers you, on a daily basis and 24 hours a day anything from breakfasts, sandwiches and snacks to local delicacies and specials such as our home-made pies. Our products are fresh and made with high quality ingredients.

For instance a Breakfast can include: Coffee of your choice, Fresh Juice, Home-made Cake, Fresh Butter, Fresh Bread, Eggs from our chicken, bacon, turkey, home-made jam, Honey from Naxos. You could also try our cereal breakfast with fresh local milk.

Note that with your breakfast you get a second coffee completely free of charge.

For years our customers express their love for our homemade apple-pie, spinach-pie, courgette-pie, leek-pie which you can enjoy at our store or take away with you. You could enjoy that more pf course, with a coffee of your choice or a fresh juice of your choice with fruits from Naxos. Or you may wish to drink one of our special herb teas, made with local herbs from the mountains.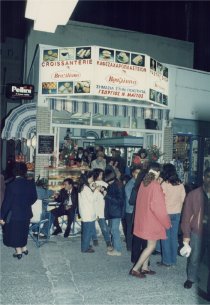 You should also try our tasty yogurt with local thyme-honey and nuts or fruits.

On a daily basis, we offer a variety of fresh bread …even for those who are on a diet. With one of the great range of our breads we could make you a delicious sandwich (toasted or cold). All sandwiches are prepared in front of you and contain ingredients of your choice. Naturally, we follow all the latest hygiene regulations.

Every night you can taste our wonderful Crepes filled with Chocolate, Banana, Nuts, Honey & Nuts, Ham, Cheese, or Vegetarian ingredients. Or you may even want to try our tasty "Loukoumades" (Honey Nuts) too. Perhaps why not even try some of our wonderful Greek deserts such as Baklava, Kataifi, and Galaktoboureko.
We also have special prices on "normal" super-market products such as water, milk, biscuits, chocolate, yogurt, soft drinks, juices, beers, and wines. We also have a wide variety of nuts (pistachio, wallnuts, etc).
During the whole year you may order any of our products, even if you are not on the island. Upon request we immediate post any of our products to you through the post or a courier company.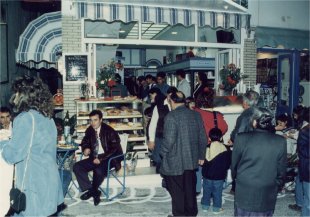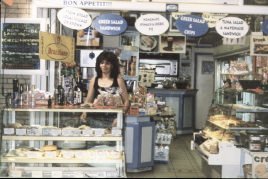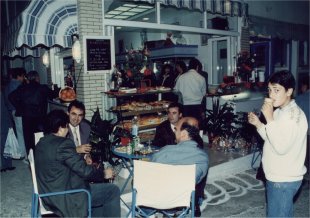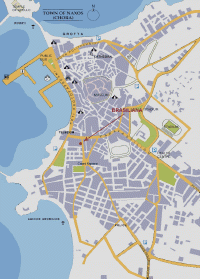 We are located on the main street between the "Court Square" and "Papavasiliou Street".
This is one of the main streets of Chora (naxos town) and was recently named "Ar.Protopapadaki Street" but is also know as the Old-'Post Office' Street.
Should you have any trouble finding the store simply ask one of the locals for directions to the store "Brasiliana, of George Maitos".
Our shop is well known to the local community and we certainly hope that you will also like our products (especially the homemade one) that we prepare daily with care and attention.
Sample List of Products that you could order online
Dried fruits and nuts
Traditional Naxos deserts and sweets
Small Sweets from Naxos (Baklava, Kataifi, etc)
Tahini Greek (is a natural cholesterol-free product with no preservatives and other additives)
Tea Assortments with fat-free oil
Whole grain and various types of rusk
Local health food products
Sesame seeds with pure honey 100% without sugar
Sesame Nugat Greek Special (with pistachio and honey or with peanuts and honey)
Other seasonal local products made on the island with fresh ingredients without any preservatives that have passed all health regulations checks.