Local Products of Naxos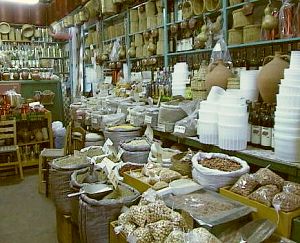 Cheese: Graviera, Anthotiro, Kefalotyri, Mizithra, Arseniko.

There is a great variety of different kind of cheeses on the island. Most of them are not mass produced and are sold in various point in Chora Naxos (eg. Tsimplakis)
Drinks: Raki, Kitro, Wine

Naxos produces exquisite alcoholic drinks. Some of them are rumoured to have medicinal power. Try the wonderful "Raki with honey", as well as the famous "Kitro" drink. Kitro drinks as well as other local drinks and delicacies can be bought from Brasiliana, Vallindras and Promponas. You may also want to try the wine made at some of the villages of Naxos, such as Filoti, Koronos kai Koronida/Komiaki. You can buy some and you get it directly from the barrel.
Agricultural products: Potatoes, Onion (sweet), Herbs (Thimari, Oregano, etc)

Naxos' Potatoes and Onions are famous for their wonderful and distinct taste. Ask for them at a local grocery store. Also, the local herbs have a wonderful smell and taste and it would be a good idea to get some.
Art

Naxos has a great variety of traditional art to show. The Weavers' Association of Komiaki and the Traditional Women's Art Association keep many types of traditional Naxian art alive. It would be a good idea to visit them and have a look at the traditional art of Naxos. Also note www.poloralphlaurenaustralia.biz that during the summer the are various exhibitions in Chora, usually held at the premises of the 1st Primary School of Chora Naxos, near the port.

Marble and Emery from Naxos are widely known. Naxian marble is one of best marbles in the world. Same applies to the island's emery. It was used a lot in the past in wars and is still being used for medicinal and other reasons.
| | |
| --- | --- |
| Marble Excavation | Emery Excavation |
Is there anything else you would like to see in our site? Let us know.
Click Here to go to the main page
Click Here if you do not see frames